If you've made the choice to start using a virtual private network (VPN), you're probably already aware of the numerous benefits you get from using one: increased anonymity online, better protection against malware, viruses and hackers, and bypassing geographical restrictions on your internet use.
Today, you can protect all your devices with a VPN, even mobile devices. For example, an Android VPN allows you to be protected on your Android device wherever you go. The same applies for VPNs for your iPhone, too. This versatility allows you to cover all the gaps in your personal data privacy, regardless of where you are or how you're browsing.
Naturally, we would like to have such great protection for free, and a quick search on the internet shows that many VPN providers are indeed offering free services. That's great, right? What a deal!
Unfortunately, despite the popular saying, the best things in life sometimes aren't free – and that rule also applies for virtual private networks. Let's take a closer look at what you actually get for the great price of nothing by looking at a few of the pros and cons of free VPNs.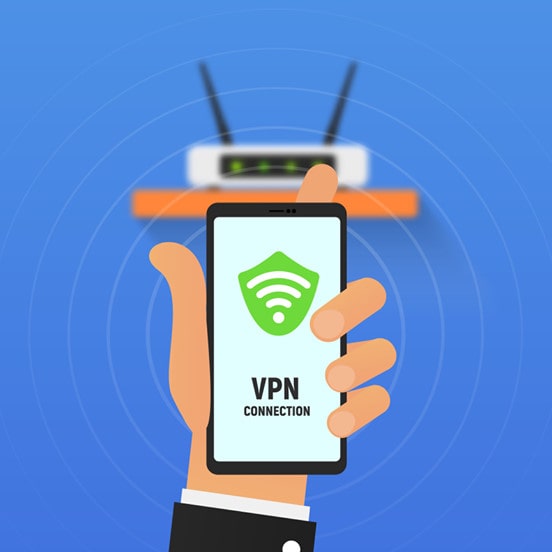 Price-performance: What do I actually get for free?
All VPNs will redirect your connection through another server, so you can expect your free VPN to do this as well. However, you may have a limited selection of servers and server locations to choose from. While this isn't a big deal for basic anonymity and online protection, some users may prefer to have more choice over the server they use. And since these servers are offered for non-paying users, you can also expect these servers to be heavily populated with other users, which means less bandwidth and slower connections speeds for you. This usually isn't a problem for basic emails and website browsing. For video streaming, downloading larger files or playing online games, though, free VPNs might only provide disappointing speeds. You may want to opt for a paid VPN in this case.
Also read – Top Paid and Free Vpn apps for Android Phones
Most free VPNs also throttle their free users' usage limits. As an example, Hotspot Shield's VPN service allows for 500 MB of data transfer per day, which gives you approximately 15 GB of free data transfer per month. That sounds like a lot, and for people who don't stream a lot of high-definition videos and music or play online games, it probably is. Other popular providers such as TunnelBear only allow you 500 MB per month with their free VPN service. Depending on how you use the internet, this could be a make-or-break point for your decision to use a free or paid VPN service.
If your ultimate goal with a VPN is anonymity and you don't need a lot of data availability, then most VPNs will work just fine. For many free VPNs, you don't need to sign up with your personal data or enter any kind of payment information, such as a credit card number.
However, this perceived anonymity can be deceiving if your VPN provider still tracks your online traffic or keeps logs of your online activity. That leads us to our next point: privacy.
It's important not to confuse anonymity – which is relatively easy to achieve online, even without a VPN – and privacy, which means that no one aside from you is saving, tracking, or recording your online activities. This is where we find the greatest downsides to free VPNs.
Like most online services, hosting and running a virtual private network service costs money. VPN providers don't make any money from free VPN users themselves, so they have to find revenue from other sources. Unfortunately, this means that some providers of free VPNs will sell the only thing they do get from free VPN users: their browsing activities. That includes your search terms, the websites you visit, your apps and how you use them, and other information that advertising companies are looking for.
Other free VPN providers will even redirect you to their advertiser's websites while you're browsing or sell the bandwidth you don't use to other users. In other cases, the free VPN will actually cause ads to appear while you're browsing. A 2016 study suggested that almost 40% of free Android VPNs injected malware onto users' Android devices for these forced advertisements. Even if you're willing to accept the pestering ads, some of those ads could contain adware or malware that can pass along even more of your browsing activity and personal data to third parties.
If privacy is important to you, you should strongly consider a paid VPN service or one of the free providers who have strong privacy protection policies such as TunnelBear, ProtonVPN or Hide.me.
This point goes back to our previous point about VPNs costing money to maintain and run. As a VPN user, you obviously want the connection you're using to be securely encrypted and sealed from end to end. Free VPNs may not offer the same level of encryption and data security from hackers and spying as paid VPN services do. Incredibly, a study found that 18% of no-cost VPNs had no encryption on the traffic through their servers whatsoever. In that case, you're no safer using such a VPN than you would be using a non-secured public WiFi to do your online activities! Make sure the VPN you choose has end-to-end encryption at the minimum. Better VPNs will have DNS leak protection, kill switches to prevent you from accidentally surfing the web without the VPN, and multiple VPN protocols like OpenVPN, which is regularly checked by the cybersecurity community for weaknesses.
Summary
If you don't need several gigabytes of data per day, then there are several high-quality VPN providers which offer a limited free service without violations of privacy and anonymity. A few of these which often top the best-of lists are NordVPN, TunnelBear, Hide.me, ProtonVPN and ExpressVPN. Of course, paying for any of these services will give you access to the full speed, performance, and benefits of the service, and at the moment, many of these providers are offering very good monthly and yearly prices for their services. However, there are several free VPNs which offer a quick, easy way to gain some anonymity and get around some geo-blocked websites and services. Just pay close attention to the smaller details, see what others are saying about the service, and happy surfing.
Related –