Compatibility is key when you're a web application developer. Usually one has to take extra time out of their already busy schedule to sit down and test out your web application on a different browser and make sure they work on every single iteration. And the number of browsers out there?!
Chrome, Firefox, Internet Explorer, Microsoft Edge, Opera, Safari and Yandex and don't even get started about beta versions of each of these browser and the mobile versions too. You may have created your web page in a day, but testing it in all these environments will take you somewhere around a month and hence slow down your production speed, and we don't ever want that do we?
What if there was a solution? A simple tool to help you test your web app on multiple platforms across different resolutions at the same time?
LambdaTest is EXACTLY that tool.
Something that simplifies the entire task of app testing, and not on some virtual machine that emulates a certain browser but on a real machine with the official browser version you want to test it on.
Let's dig a little deeper and take a look at all the features of this tool.
Features
Simplified Online Compatibility Test
You don't need 50 different machines to test all your configurations at the same time, all you need is LambdaTest. Literally! You can configure the testing environment with your choice of desktop and mobile browser, browser version, operating system, and resolution. Once that is done and you've selected every platform you want to test out your web app on, you can deploy the test run and just sit there and bask in all the free time you just earned yourself.
Side Note: You can also click pretty handy screenshots and screen recordings
Test on multiple mobile devices
Aside from desktops, you can also choose from a wide list of iOS and Android devices. All on the resolution you wish to test your application on. Test on well known brands like Samsung, Google, Sony, LG, One Plus, HTC and also some not so widely available brands like Xiaomi, Huawei, Gionee, Oppo and Vivo. Multiple Android/ iOS versions are available for you to test out your application on a variety of environments, even when it comes to mobile.
You can also test the responsiveness of your app on different screen sizes varying all the way from the smallest size to the biggest screens.
Automated Screenshots
With a feature for automated screenshots, you can run tests on 2000+ devices and see visual results, no need to sit down and test everything manually as you can easily get all these results via the automated screenshots and just selecting all the optimisations you wish to test.
No restrictions on which pages you can test.
With LambdaTest you can also test locally hosted pages for cross browser compatibility.  Easily test your locally hosted pages on a browser environment of your choice. Ensuring cross browser compatibility even before launching on live servers.
Plans Available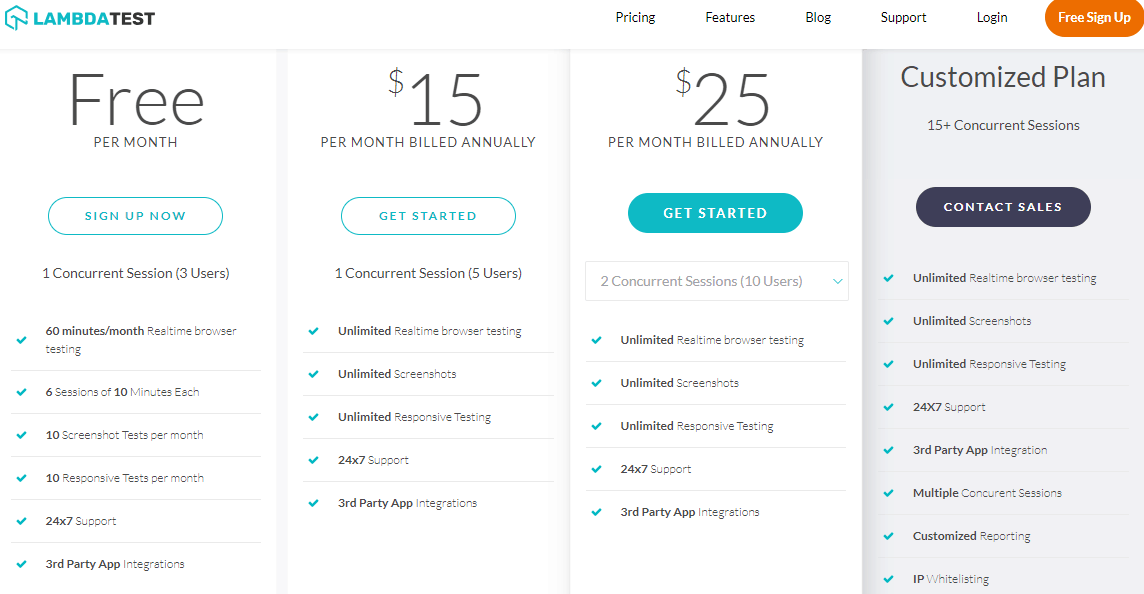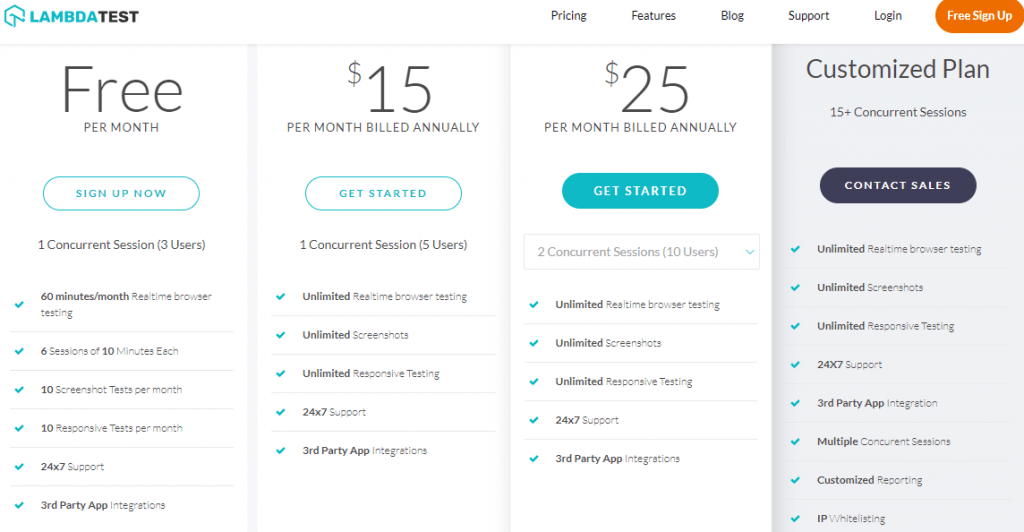 As you can see from the attached image there are multiple plans available for users that require different things. But the game changer is the customisable plan, which you can contact their sales support for.
LambdaTest is a must have utility for anyone in the web app development scene. With the range of features and perks one can truly grab hold of all the excess time that goes into testing and channel that time and energy into something more fruitful, thereby multiplying efficiency.
Not only are the plans cheap and affordable for pretty much everyone, but there is also a month long free trial period which you can take to fall in love with this utility!