Guide To Enable Galaxy Note 7 Dual Speaker Feature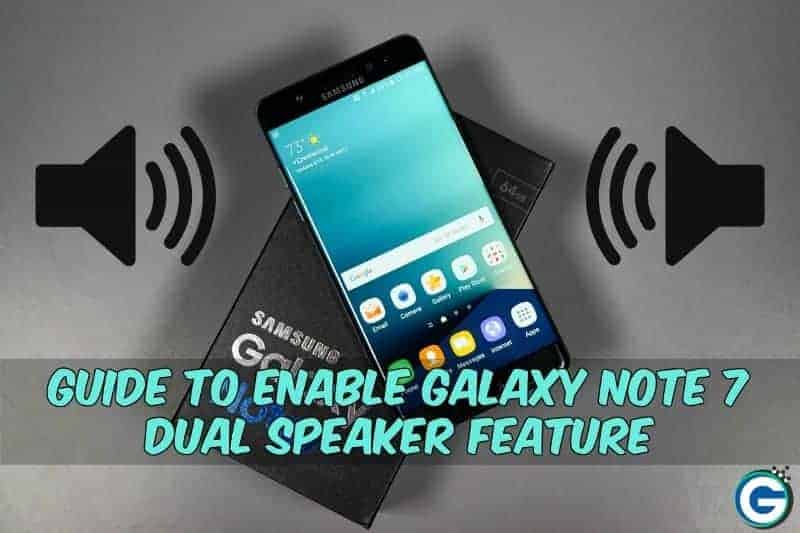 Some day ago Samsung launched galaxy note 7. Many users device has halted due malfunctioning batteries. This phone was too much hitting coz of that its blast so users change this device.
If your device is working fine then you enable galaxy note 7 dual speaker feature. We have a mod for you that enable galaxy note 7 dual speaker feature. As you will know, these Samsung devices come single speakers. Although the sound output may be large enough, it can not compete with the stereo speakers or the forward-firing speakers.
If you want to enable this dual speaker feature or improve the sound experience on your note 7 devices then you try this mod. Basically, your handset will not give you a stereo effect as a secondary speaker. Here are many features of this sound mod you see all feature below.
To install this mod on your note 7 devices, you will need a custom recovery. If you don't have recovery (TWRP) then you follow this link Here So don't time wast just follow the guide below and enable dual speaker.
Dual Speaker Feature :-
Activate dual speaker when playing media.
Louder VoLTE in call volume.
Increase multimedia playback volume.
Better mic sensibility on voice recording.
Increase Wifi Call volume.
Better Bluetooth multimedia playback volume.
Improved mic sensibility on video recording.
Increase in-call volume.
Increase Bluetooth in-call volume.
Louder handsfree volume.
Improved mic sensibility during calls on speaker mode.
Preparations :-
Need Install TWRP Recovery From Here
Read Instructions.
⇓⇓ Download Dual Speaker MOD From Here ⇓⇓
Instructions To Install :-
Download the MOD zip File from the link given below.
Copy it to root folder of your device's storage.
Then turn off your phone and enter recovery mode by Volume Down + Power key at the same time.
Now In Recovery take a backup by TWRP recovery.
Then after backup complete back to the main menu.
Next In recovery menu go to Install.
Then navigate to the MOD.zip File, That you downloaded before.
Select Dual Speaker v17.zip file from the list to flash it.
Swipe for flashing.
Wait for the process to complete; It may take few minutes.
After process Done Reboot Your Device & Enjoy.