Guide To Enable Google Assistant on Any Android Marshmallow Devices
Guide To Enable Google Assistant on Any Android Marshmallow Devices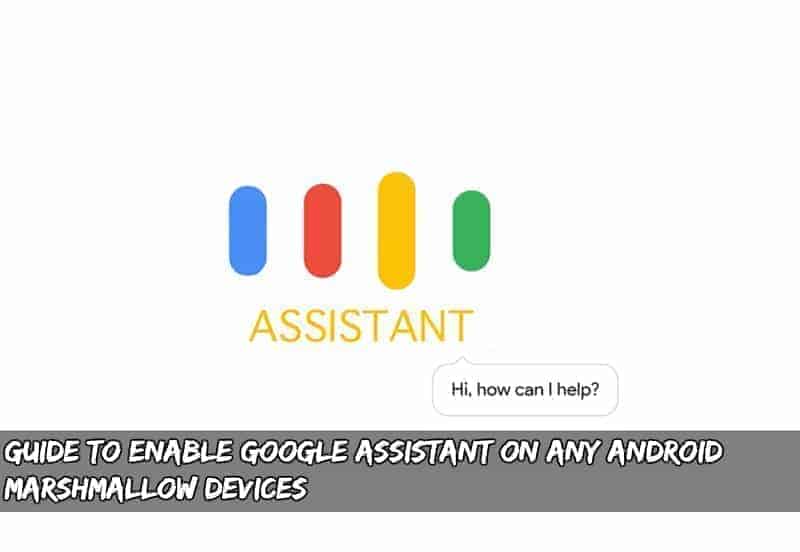 Google launched their two new device Google pixel and Google pixel XL. Two devices run by new Google Android 7.0 Nougat. New Google introduced new voice Assistant like apple siri called Google Assistant. Google Assistant will help you when you traveling in car, bike it will call, Play Music with simple voice command. New Google Assistant will tell you the current weather, Stock News, Search Web for you play music play list for you by voice command.
Currently Google Assistant only available for Google Nexus and Pixel Devices phone with Android 7.0 Nougat phones. But there is a Xposed module called N-ify it will help you to enable Google Assistant so lets go to the guide .
Tested Devices:-
Google Nexus 6P
Nexus 5X
Google Nexus 6
Nexus 5 M
Google Nexus 4
Pixel C
Moto G 2013
Moto G 2015
OnePlus One
Lenovo VIBE K5 Plus
YU Yureka Plus
Preparation :-
Device Must Be Rooted Here-> You Can Find Root Guide .
Device Must Be Installed With Custom Recovery Like Twrp Cwm Here Guide -> .
Need Xposed Framework On Your Device Here Guide -> .
Download Required Tool and Apk
Read Guide .
⇓⇓

Download DTS & AC3 Custom Codec
⇓⇓
Guide To Enable Google Assistant on Any Android :-
Step 1-> Download Install N-ify Xposed Module and Enable the module reboot .
Step 2-> Install Build Prop Editor and Open the app .
Backup current Build Prop now add replace this Build .Prop and save it .
ro.product.model=Pixel XL

ro.opa.eligible_device=true
Step 3-> Now Install Google App and Enjoy Google Assistant By Hold Home Button .
Method 2 :-
Download 3 Flashable zip from Flashable Auto Link
Copy all 3 Files to your device
First Flash GoogleAssistantVelvet.zip Then GoogleAssistantBuildProp.zip .
Clear Cache and Reboot The Device .
Install Google App and Enjoy .