Honor 6 L04 – Emui 3.0 B380 Stable Version Now Available
You Need First Install B370 EMUI 3.0 Version Then You Can Update The Version Link
After the EMUI 3.0 update version for the H60-L04, a new update (H60-L04V100R001C00B380) is now available for those who perform the B370. The OTA update is just an incremental update with just only 39MB in size. There is no specific change said not log similar changes found in the B370 update previously as shown below.
The biggest change that is visually available is the additional 4G toggle in the notification center menu. For those who downloaded the B370 update from this site, we also sent the B380 file for you to update your phone. Please follow the instructions below to upgrade. If you are still in EMUI 2.3 and would like to upgrade to the latest 3.0 EMUI please, open the previous post and download the update there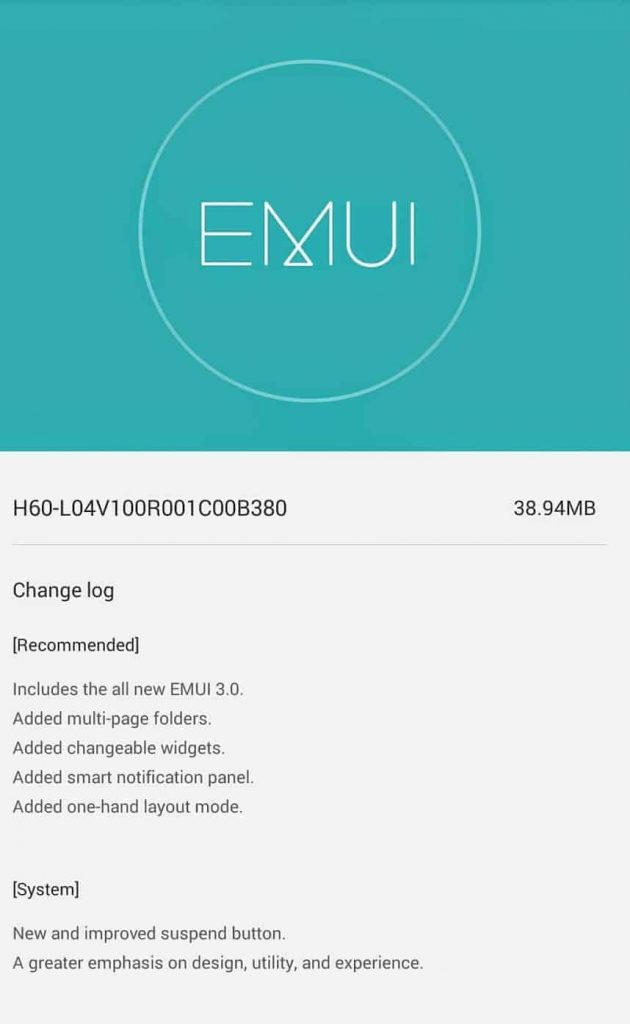 Whats New In This Version
[Recommended]
Include The All New EMUI 3.0
Added Multi-Page Folders
Added Changeable Widgets
Added Smart Notification Panel
Added One-Hand Layout Mode
[System]
New And Improved Suspend Button
A Greater Emphasis On Design, Utility And Experience
[All New UI]
Dot, Line And Circle Design
Magazine-Like Visual Experience, With Translucent And Burry Effects, Large Vibrant Images, Spaces And Contrast.
Flattened UI Elements And Abstract, Ergonomic Design.
[Home Screen]
Vast Collection Of Online Themes; Easier Ways To Interact With Home Screen Elements; Various Other Improvements.
[Snapshot]
Clear And Simple Camera Interface With Panorama And Beauty Modes And A Wide Variety Of Watermarks
Download And Install Emui 3.0 For H60-L04 All Country
First Download Update.zip File From The Link
[sociallocker] Update.zip [/sociallocker]
Create "dload" folder on your internal drive and copy the Update.zip in to Dload Folder.
Open EMUI updater and Chose Local Update
Open The Update.zip
Install and reboot your phone