The ecommerce industry is growing fast! If you want to cash in on the billions of dollars online retail is serving up, you need to take your online store to the next level. Need a bit more convincing right out of the gate? Well, 25 percent of the world is shopping online.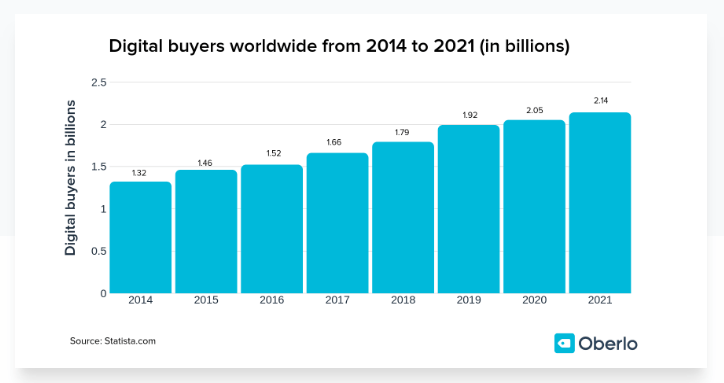 And Covid-19 probably increased that percentage exponentially. But mastering ecommerce is always that easy. It can certainly prove challenging to move from a small online store to a competitive ecommerce company.
The good news is that you can employ a number of strategies to achieve next level revenue, whether on your own or by leveraging expertise via a global ecommerce platform.
Let's take a deeper look at the next level strategies for maximum online store growth and success.
Launch Multi-Channel Campaigns To Reach More Customers
To take your online store to the next level, you need to implement multi-channel marketing campaigns. This will help you reach more customers. What does this look like? First, consider all the ways you can convert consumers:
On your ecommerce site via a deals page
Email opt-in form for 10 percent discount code
Email marketing campaigns for promotional or top products
Email marketing campaigns for similar products previously purchased
Content marketing campaigns via unboxing videos
Social media campaigns
The larger the net, the more customer acquisition. Develop a multi-marketing strategy that will help you reach more customers, thus achieving next level revenue.
Dive Deep Into Accounting To Increase Budgets
One of the biggest pitfalls of ecommerce businesses is the lack of budget to continue promoting products online. This often happens due to a relaxed accounting approach. To increase budgets for marketing and SEO, two big time success factors for online stores, get focused on the numbers.
You can do this the traditional way, or you can employ an accounting software that can do the heavy number lifting for you. This can be a game changer for your online store in more ways than one.
Tap Into The Influence Of Others Online
What does this mean exactly? There are people online right now promoting products to specific target audiences, usually via social media. This is because consumers prefer product recommendations from people they trust, instead of brands.
Enter influencer marketing! Influencers already have the target audience you want to reach. Their followers are loyal and hang on the recommendations their favorite influencers make. This can definitely take your ecommerce store to the next level.
But finding influencers in your niche can be challenging. You need to find the right influencers to partner with. Ensure they have a decent follower count, are influencers on the social media platform your audience hangs out on, and the engagement rate is high.
Get More Social With Your Online Store
Social media is extremely important for your online store, especially if you are looking for next level results. We touched on influencer marketing, but what about your own social profiles? Are they powerful enough for consumers to trust buying from you? Are you providing the right information for more sales?
To take your ecommerce site to the next level, you need to first take your social media marketing to the next level. Here are a few online store social media tips:
Ensure your social profiles are up-to-date and full of informative content
Have contact info easily accessible
Share your brand story via social media
Leverage online buying via social platforms like Facebook and Instagram Shopping
Post consistent content that has value to consumers
Utilize the power of videos
Make social media marketing a priority and you will see big time results. But be sure you are always giving value, otherwise users will pass your online store by for a competitor.
Google Can Be A Serious Next Level Asset For Ecommerce
Google is more than just a search engine. It is a way to increase brand awareness for your online store. Even if you are not a local business, you can leverage Google My Business to reach more customers, share product details and discounts, and attract more users to your ecommerce website.
First, set up your Google My Business account and fill in all of the business description details. Once you have this in place, put in images of your business, team, story, and more. Next, post regularly, whether it is a post about a recently posted article, or featured product on sale.
Are You Ready To Take Your Online Store To The Next Level?
Getting next level revenue is every business owner's goal. The above strategies can help. You should employ all of the above that you can. From multi-channel marketing to tapping into influencers, make your online store more visible online today.