Social media is a prominent factor in the modern market, with every sector using it for betterment and growth. Channels like Facebook, Instagram, and Twitter have helped several ventures garner a global user base within a limited time.
Although the web is inundated with numerous promising social media platforms, Instagram has surpassed the competition by a mile in recent years.
The platform is the fastest growing social media channel, along with the highest customer engagement rate. This goes to show the sheer potency Instagram packs for your business's growth. The platform has been around for a decade now, and its global stature attracts numerous brands toward it.
A couple of years ago, building a marketing strategy on Instagram used to be straightforward. You just needed to identify the ideal posting time, and your post would receive an optimal reach.
However, Instagram algorithms have evolved over the years, and now brands have to consider multiple factors to get an apt consumer reach.
Albeit it has been some time since the algorithms were integrated, many brands still do not know how to cope with them. The web is filled with searches such as "how to get increased views on my Instagram posts," "how to start editing Instagram videos," and "how to get more reach on Instagram."
If you also possess any such query, read through the blog to understand the Instagram algorithm. Here are the top tips to get better reach on your Instagram posts.
What is Instagram Algorithm?
The Instagram algorithm is the system that dictates which user will see your posts on which spot. Based on several factors, the algorithm decides which users will show interest in your post. Understanding the algorithm is crucial for your brand to get more reach, and there are three benchmarks you need to cover – Interest, Timing, and Engagement.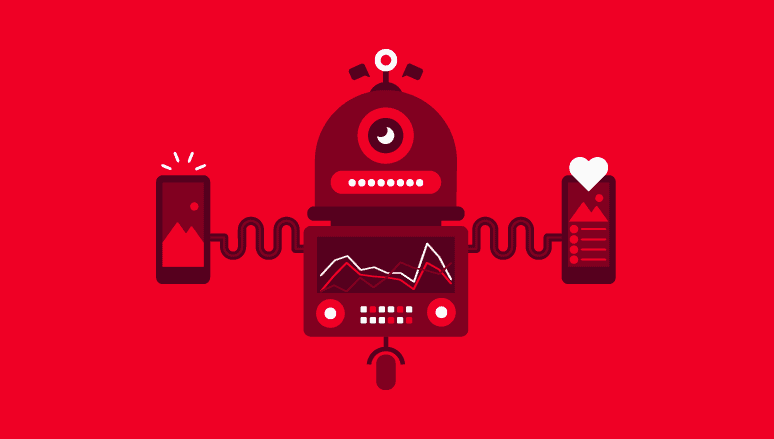 The Instagram algorithm assesses these three facets to deciding the level of your posts' reach. You need to raise interest in your users, identify the best posting window, and ensure you are getting an apt amount of user engagement on your posts.
Other than that, here are some vital information your brand can use:
The algorithm is ML-based (machine learning), meaning it's constantly updating.
No particular medium is favored by the algorithm, meaning there is no certainty that a video will perform better than an image. If your users interact with videos more, they will receive them more often.
Your Instagram profile type does not decide your reach.
Buying Instagram likes will not bode well with your organic reach.
Getting a quick engagement does not have any effect on your post's overall performance.
Now that you have a basic understanding of the Instagram algorithm, here are the top tips for targeting it and increasing your reach.
Tips to Increase Instagram Reach
Create Interaction Boosting Posts
User engagement is one of the benchmarks the algorithm notices, so you need to generate your post's interactions. While posting routine stuff is reasonable, you need to dish outposts like questions, choices, and contests to engage your followers.
In the contest, you can ask them to like and share the post to get different benefits. You can even post two pics and ask your followers to choose the better choice. Anyways, your priority should be generating as much user engagement as possible.
Find Out Your Ideal Timing
Your Instagram posts' performance heavily relies on the time of the day you are posting them. You need to understand when the majority of your followers are active. You can use Instagram Insights to help you in this regard, but you also need to test some strategies.
You do not even have to worry about publishing them manually, as they can be scheduled ahead of time. In case you do not own a business account, you can find several useful apps on the web to help you out.
Hashtags are Your Friend
Hashtags are a prevalent factor in several social media channels, and Instagram is one of them. You can try different types of hashtags, such as trending, general, and industry-specific. Each type serves its role, and using the right one can significantly grow your reach.
Instagram Insights can come in handy to find the best hashtags as it lets you assess your post metrics. If not, you can also use numerous tools to find the most trending hashtags on the platform.
Use the Stories Feature
Instagram Stories is another vital facet you can use to pop up on your viewer's attention span.
A story is pinned on top of the users' profile, increasing your chances of user interaction. Plus, the algorithm also counts stories in its assessment, so you should upload more stories to get a better reach.
Go Live for More Engagement
Going live on Instagram pushes your brand to appear in front of every story, significantly increasing your viewership. If your users recognize your brand logo, they will rush towards your feed. If they do not, it will increase the chances of them recognizing your logo.
Refrain from Excessive Posting
While regularly posting on your IG channel is a viable idea, dishing out content without any thought behind it is disastrous. Doing so will only repel your users since the practice will remove your brand's association with value.
Think about it; posting one quality image over ten thoughtless posts is much better. When users see the value, they will appreciate it and frequently check your page to see what you posted.
Videos to Catch Your Users' Attention
Humans are designed to notice any moving thing, and that is why a video is more likely to catch your viewers' attention. The web is filled with studies debating, which is better videos vs. photos for user engagement, but there is no conclusive evidence for either side.
However, it has been noted that while a photo garners more likes, a video generates more comments. It is easy for users to see an image, double-tap on it, and forget about it. But when they watch a video and comment on it, they are more likely to remember it.
That is why you need to integrate videos into your IG campaign. If you decide to do so, you can visit VideoCreek.com for the best video ideas and intros.
Conclusion
Instagram has emerged as a household name in the global industry, and every business worth its salt is using the platform to increase its reach. Doing so is not easy, seeing how the Instagram algorithm keeps evolving. If you are also struggling with a limited reach on Instagram, the blog will help you out.
It provides a brief explanation of the Instagram algorithm and top tips to capitalize on it. Reading the blog will help you understand how your brand can quickly get increased reach on Instagram within a limited time.
Related – Guide to Email Marketing for Beginners: Effective Tips and Tricks