iOS 7 Stock HD Wallpapers Download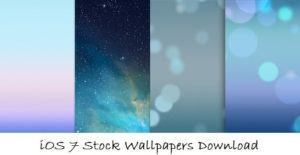 As Promised In A Previous Post, We Use A Complete Set Of The IPhone 5 (IOS6) Wallpaper Share, We Are Here Once Again Another Great Share From A Help From Apple'S Recently Launched IOS7 All New Wallpapers. A Complete Overhaul From The Latest Version Of Apple'S Operating System Functions And Redesign Aimed At Looking For Simple Flat Design Of The User Interface.
The New IOS Appears To Be Better Than Its Predecessor Or Not Is Not Our Topic Here, But You Must Admit That The IOS7 Launched A New Wallpaper Certain Eye Treatment. In Fact, The Number Of New Background Only Two People, The Rest Are The Same As We Used To Share, You Can Download It Here.
The First Two Of Wallpaper From The Left Side (In The Picture), Are Called Nebulae And Point Wallpaper Is Static, While The Blue Bokeh Wallpaper Is A Live Wallpaper From The Official Frame. I Also Include Some Lighter And Darker Bokeh Background Colors, So Their Total Number Has Reached 8. These Wallpaper Pixel Resolution Of 640 × 1136
Download iOS 7 Stock Wallpapers:-