Technology has come quite far when it comes to communication, there are several means through which one can communicate with others and webcams is one of the most advanced pieces of technology that is used for the purpose today.
Webcams lets you see and communicate with people from all over the world and are used by several businesses to conduct important conferences, it is also used by educational institutions to conduct distance education classes. There are several sectors in which webcams have an important role like security, marketing, or traffic management.
The applications of a webcam are endless which is why they are becoming more important in the present world.
It has been quite a few months since the world has been taken over by the Covid-19 pandemic, lockdowns were imposed almost throughout the world and online conferences and classes kept businesses going on and this has added to the growing importance of webcams.
Embedded And External Webcams
Almost every laptop and quite a lot of desktops nowadays come with an in-built (embedded) webcam, but these webcams lack a lot of features that external webcams have. Due to the fact that in-built webcams are small, multi-piece lenses are not possible and this is what brings about the reduced image quality in them. External webcams on the other hand have very good image quality.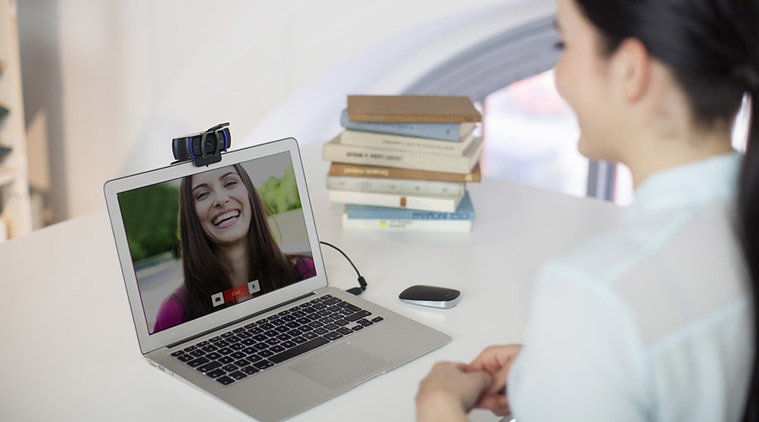 Adjusting the position in an external webcam is very easy, it can be placed in any position you require. But the same is not possible with in-built webcams.
Webcam: How They Work
A webcam is basically a compact digi (digital) camera that works just like a conventional digi camera but the main difference is that it is made in a way that it interacts with the pages on the internet.
Webcams capture real-time pictures via a small grid of light detectors which are referred to as Charge-Coupled Devices (CCD) from the place where it is kept. The CCD then converts the picture/image into a digital configuration (format), making this data accessible by a computer.
Since webcams do not possess any memory or have a slot for a memory card as such, the data is transmitted immediately via a USB cable (or any other cable) to the host device.
Most of these devices and webcams come with an in-built microphone, this helps in transmitting audio in real-time too.
Apart from capturing images and transferring them to other devices, they also come with software that will help you interact with the host device. This software will enable the user to edit videos and images for a particular period of time.
This software basically takes the digital data from the webcam at certain time-intervals and based on the frame rate, the pictures or videos are displayed on the laptops, computers, or other devices.
The software gets the image from the webcam and then changes it into a JPEG file, after which it will send it across to the webserver with the help of the File Transfer Protocol (FTP).
Choosing A Webcam
As mentioned above, there are two types of webcams that one can use. In-built and External webcams.
But before you purchase an external webcam, there are certain things you should be aware of, that will help you make an informed decision. But whatever your decision is, make sure you have a proper webcam test before making the final purchase.
Megapixel
Megapixels help in determining the quality of the video or the image. In fact, most webcams provide a good enough image quality. But you should know that using 320 x 240 pixels or 640 x 480 pixels is good, but to get even image better quality choose webcams with 1280 x 720 resolution or 4K resolution.
FPS (Frames Per Second)
FPS determines the pace at which the images move on the screen. The minimum FPS is 15fps but if you want to have better video streaming ability then 30fps is a good choice. But in order for that to work you need to have good internet speed.
Microphone
This feature is important too as it corresponds with the video being captured. it is particularly helpful when you're a part of online conferences and classes and having good sound quality is a must when you're a part of those conferences/classes. Be sure to conduct a thorough mic test before buying one.
Also, it is worth noting that if your webcam's sound quality is not up to the mark, you can always invest in an external microphone. Or you also have the option of using a gaming headset with a microphone.
These are some of the things that you should keep in mind when you're planning to buy a webcam.
Applications Of A Webcam
As mentioned earlier in the article, there are several applications when comes to using a webcam.
Webcams can be utilized to monitor unauthorized entries in a mall, office, or other buildings. It can be used to improve communication in offices through the means of webcam meetings.
Webcams are also used in the banking industry, almost every part of the bank is under surveillance with the help of webcams and the video files are sent and maintained in the main server which can later be utilized for investigation purposes.
Apart from these professional uses, you can also use them to communicate (video calling) with your friends. Or you can also use them to live stream shows like several YouTubers and online celebrities do.
Of course, these are just some of the many uses of a webcam, there are several more, but remember, the uses of webcams mainly depend on the industry you work in.