Naming your business and website is an important step for your brand identity and one that needs some thought. You can now use one of the many names generators to make this task easy. Let us look at three such good names generators.
Automatic Names Generator
Names generators take a keyword and list out possible words and word combinations that you can pick from, to name your business and your website. However, you have to check if that name is available with the extension you want.
Shopify, GoDaddy, and Oberlo provide great names generator tools.
Shopify
Shopify is a powerful ecommerce site that lets you quickly setup a full-fledged online store. Did you know you can also buy your domain name from Shopify? To help you find good names for your online enterprise, Shopify provides a business names generator tool.
Go to Shopify names generator page and enter a prominent keyword related to your business in the textbox and click Generate Names. You will get a list of a 100 different names to pick from. You can change the keyword and get a new list.
Pick a few names that you like, then go to Shopify Domain names generator page. Enter the names you have chosen. Concatenate words together, eliminate spaces and do not use hyphens.
Shopify will first let you know if the TLD (.com) is already taken up for that name. It'll also list alternate TLDs for the same. There are several various TLDs out of which you may find one to three that may be relevant to your business, starting with .shop.
If you can't find the right the right TLD for your first choice, try the other names you have picked. It's preferable to register your domain name with a .com TLD and then add other TLDs as you wish. In the ecommerce world, .com is still the most trusted and recognized domain name extension.
GoDaddy
GoDaddy is the world's largest domain name registrar. GoDaddy provides many tools for its users convenience and one of them is the business names generator. You've to enter a relevant keyword and you will get a list of possible names that includes the word you entered. As GoDaddy is primarily a domain name registrar, you will also get suggestions for possible extensions. It will also let you know if the .com extension is available or not for the keyword you entered.
Sometimes, the name you have chosen along with the .com extension might be available for sale. In that case, you can consider purchasing that domain if it's a viable option for you. You don't want the extra expense, but still want a .com extension as the primary TLD for your business? Go back to the search page and enter a different keyword relevant to your business.
Once you find the domain you want, you can register it on GoDaddy,.
Oberlo
Oberlo is an ecommerce store that also provides a names generator tool. You enter a keyword and you get a list of names that you can choose from. Here too, you will get a 100 suggestions for possible names for your business.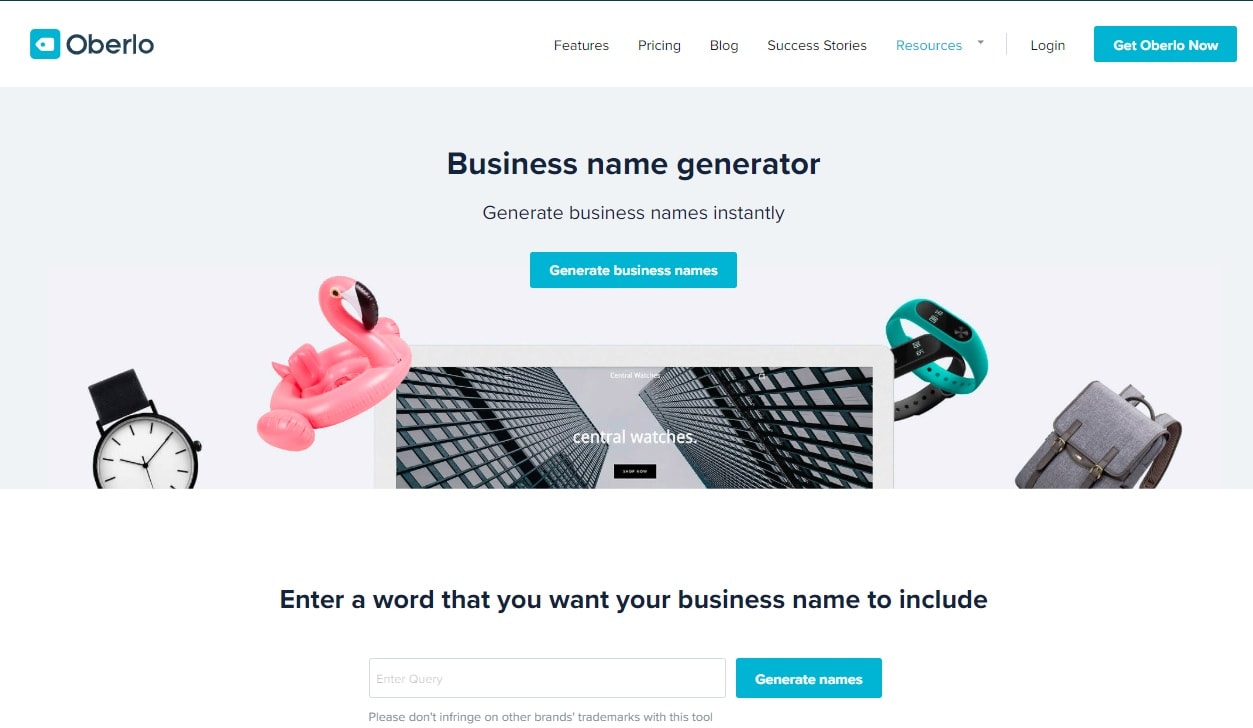 Business name generator tool on Oberlo.
Picking the Right Name
Getting it right the first time is important in domain names, because it's hard to go back and change the name once the users are familiar with the original URL.
Keywords
There are people who stand on both sides of the fence about the benefits of having keywords in your website URL. Before Google and its search engine rules, this might have given you an SEO advantage. Not anymore. Nevertheless, keywords do make sense. Think of it – would you prefer xtz.com or writersnook.com? The latter at once lets you know the website is for writes. It might be a special interest group, or it might be a store selling writing supplies, books and software for writers. Keywords help make your business and website names more meaningful to the target audience.
The Primary TLD
Pick a domain name with the .com extension as the primary domain name for your website. Search engines and users still place value on the long established .com TLD. You can also buy up .net and .biz if relevant, to ensure no one else registers your business name with these TLDs. If you have money to spare, you can explore a hundred other new TLDs on sale that're relevant to your business.
Choosing a name for your business is a vital step you can't skip. Names generator tools can help make this task a bit easier for you. So, check out the above mentioned names generator tools if you're looking for a good business and domain name.