Do you remember when you first heard about blogs? I remember being in middle school when we started getting (relatively) full access to the internet in school, and that's where I first encountered blogs: people writing and posting content about pretty much anything. I even started a blog of my own during those young teenage-angst-filled days which has since gone the way of the dodo bird.
Needless to say, blogging has come a long way since the early 2000s, just like the internet has in general. In today's high-speed internet landscape, blogging consists of much more than text – it now includes high-resolution photos and videos, music, social media integration, monetization in the form of advertising, and other business elements related to both e-commerce and regular retail commerce.
If you're thinking of starting a blog today, you've got plenty of options and lots of company. The modern blog-scape consists of a great number of CMS providers – "CMS" stands for "content management system". Web content management systems specifically are intended to give people without HTML coding or other programming experience a chance to share their content with others on a high-quality, functioning, and attractive website. Content creators can decide whether they want to use a paid service or one of the free blog platforms available.
One of the most well-known blogging platforms today is WordPress. First released in the late spring of 2003, WordPress has grown into the most prolific and most popular content management system on the internet. Plenty of celebrities, Fortune 500 companies, major media outlets and well-known bloggers use WordPress to publish their content. Out of all the websites on the internet today, approximately 30% of them are WordPress-based websites. And if you weren't aware, there are about 1.5 billion websites on the World Wide Web as of January 2019 – that's a lot!
But naturally, just because something is popular doesn't necessarily mean it's the best, nor does it mean it's the right choice for you. So what are some other reasons why WordPress would be a good choice for your blog?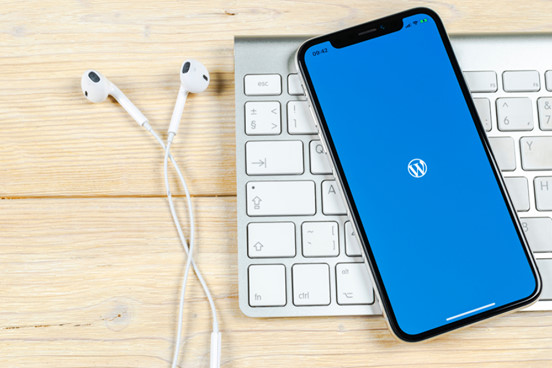 It doesn't matter what kind of content you want to publish – WordPress can pretty much do it all. Whether it's just a text-based blog, a photo blog, a place to share your music or other portfolios of your work, a business blog or a news website, the versatility of WordPress will give you plenty of freedom and flexibility to share your content with the world.
WordPress is meant to be easy to use, even for inexperienced bloggers. You don't need to know how to code or program software to build a beautiful website filled with your content. Your work is saved every few seconds so you don't lose your progress. You're able to drag and drop content into the post, which makes your blog creation faster and more efficient. In addition, images can be resized, multiple files and media can be uploaded at the same time (a feature called "mass upload"), and you can use a WYSIWYG editor. "WYSIWYG" stands for "What You See Is What You Get", and a WYSIWYG editor allows you to simply type and format text into a box – just like in Microsoft Word – and have the blog post appear exactly how you created it in the editor without you having to do additional HTML coding.
WordPress is not only easy for you as the blogger to use – it's easy for your potential readers and followers to find and use as well! WordPress features "friendly" URLs, which means that the URLs and links to your individual blog pages won't be a crazy combination of letters, numbers and punctuation. This along with WordPress' SEO-friendly website structure also makes it easy for search engines such as Google or Bing to discover your blog when people search for keywords relevant to your content. Your website will also be compatible with mobile devices, which more and more users are using to browse the internet today.
Great support and security
Even if you don't plan on using WordPress' e-commerce features, there are many other reasons to have a few layers of security on your website. These fairly basic security features include the Captcha function (which you've probably seen when logging into certain websites or submitting online forms – for example, when you have to enter a series of letters and numbers in a box to prove you're not a robot), email verification, and SSL logins which protect your login information. In case of any issues, WordPress also offers online assistance, a public support forum, professional support services, and even training on how to use their commercial services in case you do decide to use the e-commerce services.
Fully modifiable
WordPress has lots and lots of free add-ons to enhance your blog. These include a host of add-ons for e-commerce sites if you want to sell products or services, but they also include helpful add-ons for blogs, such as forums and chat functions, FAQs (Frequently Asked Questions), a subscription feature, multi-lingual content for languages other than English, a newsletter, tests and quizzes, and an events calendar. These will allow you to truly reach out and interact with your readers and subscribers.
Perhaps the greatest thing about WordPress is the price! WordPress offers their open-source CMS software for free. With that, you can create your website and content and upload it to any other hosted website that you own or pay for. Alternatively, you can pay WordPress to host your website for a fee which starts at only $5 per month for their "Personal" website hosting plan – or even for free for their most simple layout, which is great when you're just starting your blog!
There are many, many different content management system providers today, so feel free to shop around, but millions of users agree: WordPress is a fantastic solution for your blog that can grow into whatever you want it to be.
Related – What To Consider When Finding A Hosting Plan For Your Website