If we talk about videos, then we have to mention about YouTube. Of course, as one of the biggest video streaming platform youtube has lots of content to offer.
However, the thing about YouTube is that you cannot download videos and share across devices.
Of course, you can save videos offline, but that's a different thing. So the question is how to download YouTube videos?
Well, you have already heard about a lot of apps. But, if you are looking for a quick solution, then you must try out YouTubNow.
Just in case, if you have no freaking idea about this online too, then do not worry.
Let me explain all things to you.
So here we go:
What is YouTubNow?
In simple words, you can say that YouTubeNow is a website which lets you convert & download youtube videos. It is currently best YouTube to MP3 converter. It is a powerful online YouTube downloader tool which allows you to download your favorite videos and music tracks pretty easily. The tool is free to use and downloading videos with it is pretty easy.
It comes with an awesome YouTube to Mp3 downloader too. The good part of this website is that it simply eliminates the need of installing a third party software on your Computer or Mobile devices to download your favorite videos. Instead, a simple web browser will do the job.
Although, you can also download the desktop client of the website too. The desktop client cuts down a lot of processes. And you must check it out if you download videos or mp3 files from youtube on a regular basis.
Using the website is pretty easy. All you will need to do is copy the url of the video and it paste it on the website. After that simply select an output format and you are all set.
However, to make you understand in a better way let me talk about the top features of YouTubNow. So here we go:
Top Features of YouTubNow
Unlimited Downloading:
First of all, there are no restrictions on the number of downloads. You can download as many videos as you want without paying a single penny. No matter if you want to download videos or mp3, all the downloads are ultimate. Along with that, you will get an advertisement free experience.
Supports Multiple Formats:
The best part of the website is that it lets you download videos in multiple formats and resolutions. It offers videos formats like Mp4 and 3gp. As well as you will be able to choose resolutions like 144p, 240p, 360p, 480p, 720p, or 1080p.
YouTube to MP3 Download:
If you want to download the soundtrack of any video, you can also do it using YouTuebNow. Also, the best part is that for downloading soundtracks you can use different audio formats like WebM, M4A, and MP3. You can also try Airy downloader to have even more benefits from regular downloads.
Video Search by Name:
Going to youtube, then searching for the video and copying the link and pasting it on the website is a long process. However, if you do not want to follow this long process, you do not need to worry. You can search for the video directly from the YouTubNow website and download it on the go.
YouTube to MP4 Converter:
MP4 is one of the most popular file types in today's time. And you can easily convert your youtube videos in that format. As a result, you won't have to use some other Youtube converter to convert your videos in mp4. Instead, you can do it from the website only.
Higher Download Speed with Original URL Substitution:
While downloading videos through YouTubNow you will get to experience a fast video downloading process. All you have to do is change the video url from youtube.com/your_video_link to youtubnow.com/your_video_link. And you will get your download button instantly.
No Age Restriction:
There are quite a lot of age restricted videos are available on YouTube. However, you do not have to worry about those age restricted YouTube videos. As you can simply download those videos to your device without having an 18+ account. Also, the website does not ask any of your personal data. So overall, you are going to get safe experience.
Cross-browser Platform:
It offers you cross-browser platform support. No matter which web browser you are using. Or what kind of device you are using. The website will work across all of them.
How to use YouTubNow?
Step 1: First of all go to the youtube.com and search for the video that you want to download.
Step 2: Now copy the URL of the video.
Step 3: Go to YouTubNow.com and paste the url over here.
Step 4: Then select an output format and hit the download button and you are all set.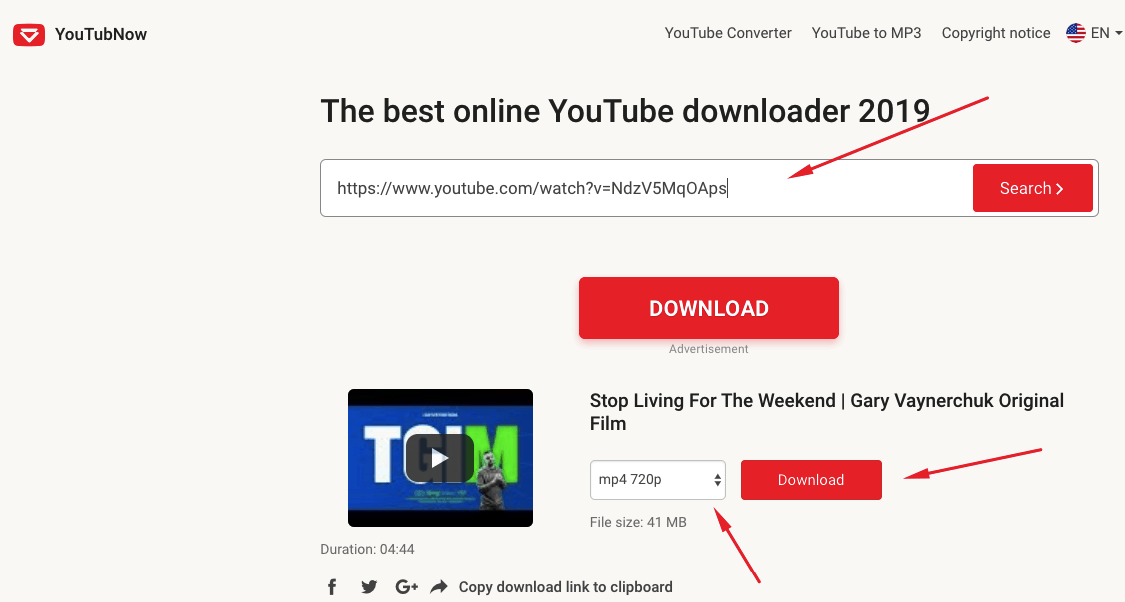 So now go ahead and check the website out and see how it is working for you.
Also, for any questions don't hesitate to comment below.