Good news for Galaxy S8 and Galaxy S8 Plus user, finally after long day Viper4Android released for Galaxy S8 Oreo running Device. We know Viper4Android is one of the most popular and best audio mod for android device. Someday we wrote how to install Viper4Android on Android 8.0 Oreo Running Devices but it does not work on many custom os without AOSP based ROM. So today we found a guide to install Viper4Android on Galaxy S8 Oreo Based Device.
Install Viper4Android On Galaxy S8 Oreo Based Device
Now a day Samsung's most popular device is Galaxy S8 and S8 plus. That's why many developers work on this phone to make much new MOD, custom ROM, kernel and much more. After long waiting now an XDA Senior Member " fairyshacker " to share and patch this file for Galaxy S8 Oreo running device. Viper4Android gives you awesome sound experience on Galaxy S8 and Galaxy S8 Plus. Download and install Viper4Android on Galaxy S8 oreo based device.
Benefits of Viper4Android:-
Viper4Android will help you to optimize your device audio to give you maximum sound experience. There are many Audio Mod available for Android devices Like Dolby Atmos, Beats Audio, Sony Audio, Huawei DTS and many others. Viper4Android on of the best Audio Mod app for Android you can add all the sound mod by convolver and VIPER-DDC function and you can fully customize the Audio of your phones. The Viper4Android developed by Euphy Wong Founder and Developer of ViPER's Audio.
Preparations:-
Your device must be rooted.
Need TWRP recovery if you root your device with SuperSU (not needed for the Magisk user).
Download the zip files (SuperSU user) and follow instructions.
Download Link Viper4Android for SuperSU users:
If you root your device with SuperSU then download the file below and follow the SuperSU installation guide. You can also try this guide to install Viper4Android on Experience 9.0 ROM.
♦ V4AXHIFIModAromaInstaller.zip
You can also like:
Install Viper4Android to SuperSU users:-
If you using SuperSU then follow this steps.
Download t

he

V4AXHIFIModAromaInstaller.zip

file and copy it to your device.

Turn off your phone and reboot into Recovery Mode.
Then go to "Install" navigate to the V4AXHIFIModAromaInstaller.zip file "Swipe to Install ".
On Aroma Installer-

Flash the core system ONLY
Remove Deepbuffer
Select Permissive
Select SD Card fix

Now, wait for installing.
After that Reboot your device and Viper4Android On Samsung Galaxy S8.
Install Viper4Android to Magisk users:-
Open Magisk manager app.
then open magisk option in Magisk manager.
Now go to Download option and search for " VIPER4Android FX Materialized "
Click on it and install.
After installation complete reboot your device.
Guide To use Viper4Android:-
Open Viper4Android and first turn on Master Power.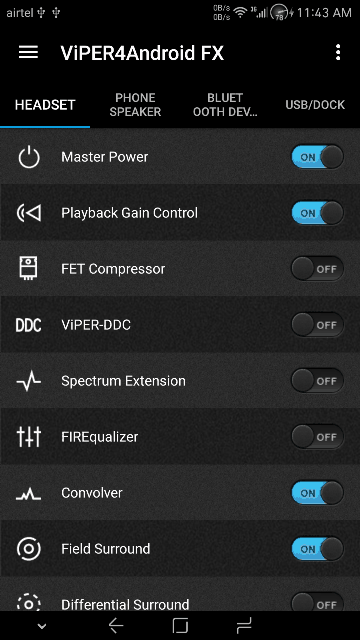 Now you customize what type of sound you want.
If you want to use our profile on your device, then download this kernel file from Here.
After download extracts it and replaces ViPER4Android folder to internal storage.
Now again open the Viper4Android app then click 3-line at the top of the corner and go to Load effect profile then click saved file.
Yep!!! Now you enjoy perfect sound on Samsung Galaxy S8.
If you like our work, then share this post and subscribe for more new Android stuff.