There are lots of modded apps available right now. That's the beauty of Android. So we have posted lots of MODs which are very much popular. Like Yo WhatsApp mod, GB WhatsApp, and FM WhatsApp. We have also Instagram X Apk which is really good. Now this one is another Aero Instagram. I used this mod and its really good. All the features and options are easy to know and easy to apply. The best thing is we have lots of options for appearances and looks to select for this app. So let's know some information and features offered by Aero Instagram APK. Aero Insta APK you can download from the links below. For now, let's know some of its features.
I was a fan of Instagram X Mod but maybe the developer has discontinued its development. This MOD is an updated version of Aero Instagram APK. There are additional features that are added now. There are other versions you may find, but this is categorized on the basis of who modded the app. So let's check it out some of its features if you are new with this. Let's check some of the basic features on Aero Insta APK.
Basic Features Of latest Aero Instagram APK:
You can download videos and pictures from history
You can easily hide your stories and select the peoples which you want to view your story
Customization: hell lot of customization of Instagram. It includes customization conversations screen and conversation.
The most important feature you can find out who follows you. For example, if you follow a person but not sure he follows you or not, then Instagram Plus will do it for you. Just go to that person profile there under profile name you will see he follows you or not simple.
Translate comments in your own language
You can copy comments, Bio
The best dark mode!!
Hell lot of options to select the appearances
Dark Green, Dark White, Gold White, Light UI options are available
Hide typing
Hide "Seen" Status from messages. That is you can hide the seen button even after you see the other messages
Fast forward and rewind videos instantly. You can just fast forward and rewind any video without the need of waiting for it to get to your point.
Start and stop the auto-loading of Instagram videos. Just by holding a camera icon on top left corner, you can toggle the options.
Many more features are available. Just read below and download the APK. Install it and enjoy the Instagram MOD. If you want a cool Instagram with beautiful customization and features, then this is for you. All credits go to the developer be sure to visit his Official Aero Instagram. Check out some of the screenshots below to get a visual reference of Aero Insta APK for Android.
Screenshots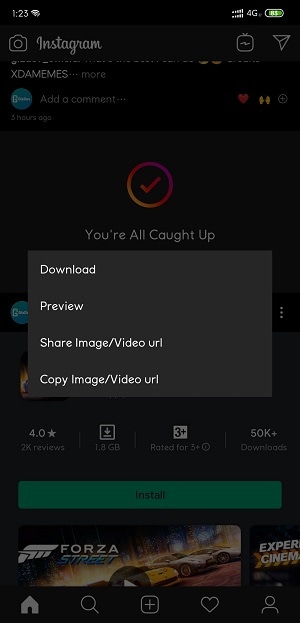 Downloads Section
There are basically two versions of this mod. One is when you want to only use this app as the main app. It means you cannot use official Instagram with this version. The other cloned version can be used alongside with the original Instagram App. So download according to your preference.
Appearances:
Blue version – Background black text blue
Dark Version – Background black white text
Green Version – Background black green text
Red Version – Background black red text
Stock Version Insta Aero APK (You will need to uninstall official Instagram)
Insta Aero Blue Version APK
Insta Aero APK Dark Version
Aero Insta Green Version APK
Insta Aero Red Version APK
Cloned Version Insta Aero APK (No need to uninstall official Instagram)
Insta Aero Blue Version APK
Insta Aero APK Dark Version
Aero Insta Green Version APK
Insta Aero Red Version APK
For other more appearances Visit official developer site.
Installation:
Download the Aero Instagram APK MOD file and copy it to your external SD card or internal storage.
If you are installing the APK for the first time, then enable unknown sources from security settings.
Install the APK and open it.
Enjoy the customization.
Check Other Mods:
Done, If you like the post Don't forget to share it. If you have any problems, then you can message us on our official Facebook page GIZDEV. Also, comment on your query in the comment box below. Follow our Instagram page to know about our announcement about giveaways. Follow here. Don't forget to join our telegram group for more wallpapers, Themes, Ringtones Update – https://getdev.me/telegramdev.