Most of the high-ended Android Phones come with IP certification, and the brands claimed to be water and dustproof resistant. Nowadays some Samsung devices also come with IP certification include Galaxy S series and Galaxy Note Series Android Phones. If you have a Samsung Galaxy Device's and you are getting this error "moisture has been detected" after liquid damage or in rainy weather then this article will help you to solve the issue. The warning message will pop up and a water-drop icon on the status bar when you connect the charger. In this article, we will show you some reason why this happens and also guide you on how to fix the moisture has been detected Error on Samsung Galaxy devices.
Sony has been making waterproof devices from many years, even the first waterproof smartphone is created by Sony. Still, many devices failed to survive in water and also the service centre refuses to fix the device for free after water damage. Water is the biggest enemy of electronic gadgets, including Smartphones. When a Smartphone minimal liquid damaged, then its main problem starts from the speakers, microphone, earphone charging socket. If it dense liquid damaged then display and mainboard could be damaged, and you have to pay huge money to replace this.
Samsung Galaxy IP certification devices
Samsung launched the Galaxy S7/S7 Edge waterproof/dustproof device with IP certification. These phones come with IP68 certification; it means this device can withstand water pressure up to 1.5 meters for a length of 30 minutes. The new Galaxy device Galaxy S9, Galaxy S9 Plus, Galaxy S10, Galaxy S10 Plus and Note 9, Galaxy Note 10 are also water and dustproof.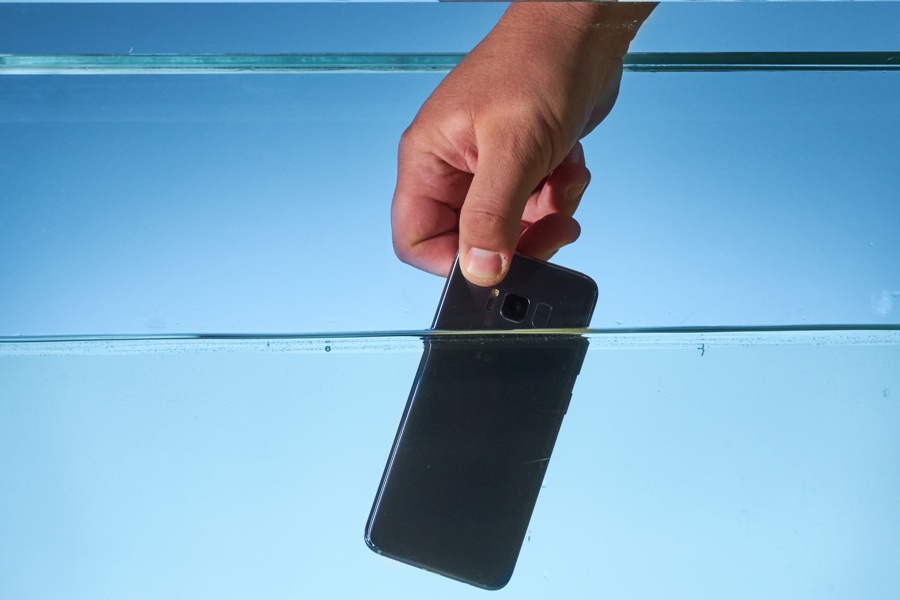 Samsung has made significant use of gaskets, sticky adhesives, and seals around the Galaxy S9, S9 Plus, Galaxy S10, S10 Plus and Note 9, Note 10 to safeguard the internal parts from allowing moisture or water within the apparatus. In terms of the speakers, Samsung has fitted mesh grille for maintaining out water. To conserve the device out of a potential short-circuit the power port on the Galaxy apparatus are powered by applications that provide it with the sign to quit responding.
Water and Dust Resistance Guidelines
Here're some instructions from Samsung as mentioned in the device manual. Follow this advice to keep up the dust and water resistance from your Samsung Android mobile devices.
Don't immerse the unit in water over 1.5 meters and maintain it submerged for over half an hour.
Don't expose the device to water proceeding with force, like running water out of taps, sea waves, or even waterfalls.
In the event, the unit is subjected to clean water, then dry it thoroughly using a clean, soft cloth. In case the unit is subjected to fluids, rinse it with water and dry it with a water-absorbing fabric.
When the device was immersed in the water or the mic, speaker, or recipient is moist; you might not hear the telephone sound clearly during a phone call. Before using your smartphone, have to dry correctly.
Recall, dust and water resistance apparatus are examined in a controlled environment prior to obtaining IP certification.
What is Moisture detected Error on Galaxy devices?
In case you have dropped your Samsung Galaxy S9, Galaxy S10, Galaxy S10 Plus or Note 9 Note 10 to water and have been encountering "moisture has been detected" error when you attempt to charge the device, here are a couple of ideas you ought to attempt and fix the issue.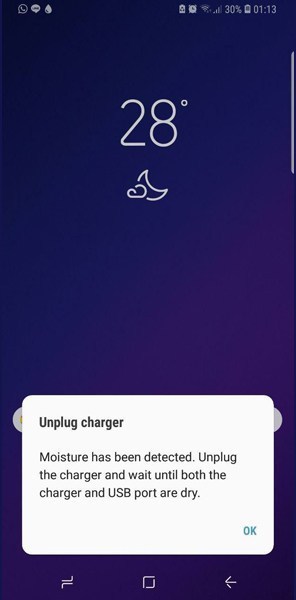 Particularly when the sensor detects any moisture within the charging interface, the error pops up. This really is a security measure by the OEM to protect the device As I mentioned above. Although it may be the stage that defeats the IP68 certification, provided below are a couple of hints repair the Moisture Detected Error problem on Samsung Galaxy Android Phones.
Some Tips to Fix the Moisture Detected Error on Galaxy devices
Try out these guides to Resolve the moisture has been detected or any moisture Detected Error on Samsung devices.
Vacuum Cleaner: Use a vacuum cleaner to dry on all the vents: charging port, speaker, headphone jack, earpiece speaker, button. Doing this might fix the"moisture has been detected" error in your devices.
Soft Cotton Cloth: The very first thing that you should try would be to dry your Galaxy S8/S9/S10/ Note 9, Note 10 using a soft cotton fabric correctly then shake it using the charging interface facing down to eliminate any excess water within the USB port.
Hair Dryer: Do not blow air into the charging interface as the moisture or water can further go within the device. Try out a hairdryer rather than vaporize water and also eliminate moisture. Be certain that you keep the hair drier temperature at a moderate or low level so the device does not get ruined by heat. Your goal is to take out the moisture, remember!
Rice: you have to be knowledgeable about rice's good caliber of absorbing moisture from stuff. Popping your Galaxy device in a rice box for 30-60 minutes may also help you mend the"moisture found" issue. Give it a go! Allow it to dry for a few minutes.
Tweezers: If wiping with a cloth, dipping into the hairdryer trick does not work and the "moisture has been detected" error still coming, there is an additional thing which you may test out. With a pair of tweezers and push on the plastic bit that holds the connections within the charging interface. Additionally, lightly scrape on the contacts together with the tweezers to remove any potential rust on them. I would caution anyone who's ready to try out this to be quite careful and gentle when trying this.
Different Charging Cable: Using another USB cable might also work.
Utilize a Wireless Charger: Well, employing a wireless charger isn't really a fix. But if you would like to control your Samsung phone whilst obtaining the moisture found error, you may use an electric charger to control it.
Once you tried the things, reboot your Galaxy S9, S9 Plus, S10 Note 9, Note 10 device and plug in the charger pin. You should now Ready to operate the device normally.
If this guide is working for you to fix "moisture detected on charging port" or "moisture has been detected" error on your Galaxy device or any other guide worked for you, then please share with other viewers in the comment section and us.
Don't forget to join our telegram group for more wallpapers, Themes, Ringtones Update – https://getdev.me/telegramdev.