Install Latest Call Of Duty Mobile On Any Android (APK + OBB Download)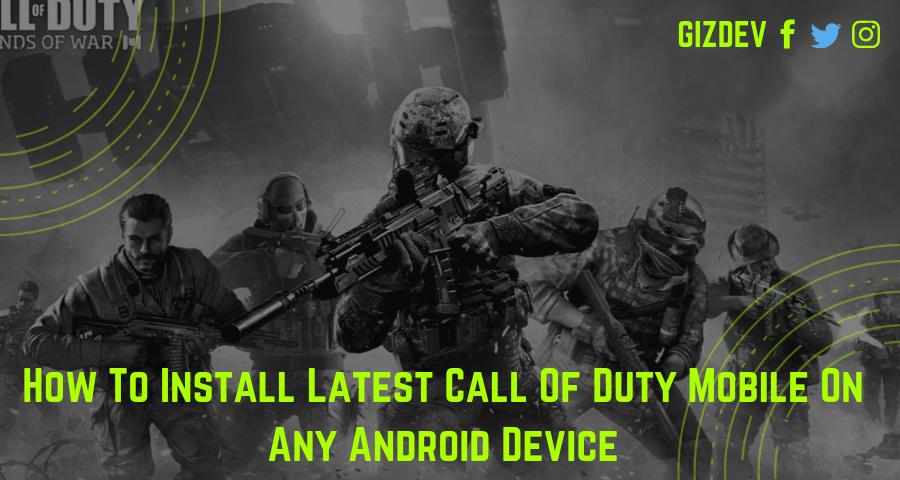 After the PubG success, there were releasing many battle royal games. Now the competition of games from PC shifted to mobile as PubG mobile released. Pubg mobile is still running well with much more players compared to any other mobile game. So the famous and master shooting game of PC call of duty is now available for Android. Yeah, the old nostalgic matches like 5 vs 5 matches like we all played on Xbox versions. The game is still in BETA version but it is now open for most of the users. If you still didn't receive beta version upgrade then you can manually do some things mentioned in the post to get the game. So let' start How To Install Latest Call Of Duty Mobile On Any Android Device Call of Duty Mobile v1.0.6.
About Call Of Duty Mobile:
I installed the game as soon as the Call Of Duty Mobile BETA version was available. There was no lag, no stutters I experienced. I know it's still in BETA so the number of players is less but still, it's a good start. I was really excited to try this one out, I played 5 vs 5 matches and they all were good enough, the new weapons, gliders, etc is too much fun. The one thing I didn't those 2D icons and frames it looked like cartoonish. It's a BETA version and they'll improve it over time.
Screenshots:
Recently, a week ago they started the battle royal version. The same open world like PubG.  The map in COD mobile was small and now only one map is open. They might release other maps too in upcoming versions. The battle royal action is fast paced and its really fun while playing on FPP mode. So you should try this game you will get addicted soon enough. I wish emulator players don't ruin the game as they did with PubG mobile. Like playing PubG mobile on high end PC is just shittiest thing. Ok leaving it aside lets head towards our topic.
Also Download:
COD Mobile 1.0.6 Changelogs:
Improved various controller combat options – Improved various customisable settings
Balanced the following weapons:- – Increase damage and penetration of Arctic 50, slightly reduced mobility and stability
Increased area of damage of DL Q33
Increased firing range of M16 – Reduced accuracy of SMG in hip fire
Reduced the trigger range of Trip Mine
Reduced firing range of Sentry Gun
Optimised BR map for easier travelsal and improved some location layouts
Added ziplines to connect elevation levels –
Increased Battle Royale launcher against vehicles
Improved Battle Royale vehicle handling
Reduced flight altitude of helicopter
Increased drop quality of Zombie supply drops
Increased drop quality of Zombie supply drops
Balanced drop quality of loot across locations
Battle Royale Class balances
Mechanic: Drone will automatically follow target
Mechanic: Drone EMP jamming speed increased
Scout: Increased cooldown of Sensor Dart and slightly reduced effect duration
Ninja: Slightly increased grappling hook cooldown
Clown: Increased hit points, attack speed and movement of summoned Zombies
Defender: Added flash bang effect on shield development
Improved Battle Royale movement animations
Improved Battle Royale map visuals
Improved Ranked matchmaking
Added ragdoll system in settings

Bug Fixes:-
Fixed a bug related to 3D touch
Fixed a bug that affected aiming down scope
Fixed gyroscope jittering
Fixed bugs affecting Trip mine triggering
Blast Vest should correctly reduce explosive damage
Various other bug fixed
Download Call OF Duty Mobile v1.0.6
You can try the above version of PlayStore if you have registered for BETA you will get the access. If not registered just Download the APK + OBB File
Call OF Duty Mobile APK + OBB File
APK ⇒ Call-of-Duty-Mobile-1.0.6.apk
OBB File ⇒ Call-of-Duty-Mobile-1.0.6-OBB.zip
How To Install Latest Call Of Duty Mobile On Any Android Device:
Download the Call Of Duty Mobile APK file And OBB file save it on your phone storage. Extract the OBB ZIP file to get OBB file.
Now you need to create a folder in Internal Storage–>Android–>OBB. Name the folder as com.activision.callofduty.shooter
Just copy the OBB file you just extracted to the above folder.
Now just install the APK file and open it.
That's it you can now play COD mobile on your Android device. If you are not from INDIA and you can't play the game. Then just download TURBO VPN from play store. Select the INDIA location and play the game!!
If you like the post, don't forget to share it!! Also, like our official Facebook page for more instant updates!!