Here is another Best WhatsApp MOD. Download Latest Aero WhatsApp APK For Android. I have already posted about the FM WhatsApp and the FOUAD developer is doing amazing work. If you are with us you may have known the Aero Instagram MOD which is one of the best Instagram MOD. From the same developer, we have now Aero AERO WhatsApp 9.11 APK for Android.
Here you can get Aero WhatsApp's latest version. This is the anti-ban version which is really useful and this will not ban your WhatsApp. So you can easily use WhatsApp without any issues or worries. This version is modded by the AERO developers all credits go to them. All mods posted here are of AERO developer. This version is stable I am personally using it.
What's New In Aero WhatsApp
The settings, privacy settings are identical to the FM WhatsApp MOD. But the themes available are really great in the Aero WhatsApp. Also, It felt more snappy and smooth. If you don't know about the features let's just check a few of them now.
Customization: Yo Whatsapp a hell lot of customization of the WhatsApp. It includes customization of names color, text messages styles, etc.
Privacy Tricks: You can hide you're last seen, blue ticks but also you can see other people last seen 😀
No Need Of App Locks: The app locks can be applied from the app itself.
Support Calls: This version support calls no worry about calls now
Stickers Enabled
More Customization
No Limit for sending videos
See deleted Status: Even if the person deletes the status you can still see the status!!
Themes: There are lots of themes available for this MOD. These will completely change the look of your WhatsApp.
See Deleted Messages: You can see deleted messages of WhatsApp. The Anti Delete feature will show you messages even if the other person deletes it!!
Every bit of themed customizations. There is about 3400+ themes available.
I have applied one of the themes you can check the UI of that theme. It looks really cool and while using it was not lagging at all. I will be updating the latest versions from the AERO developer from now. If you want to try out the WhatsApp MOD you should try this one!! Check out some below screenshots. Make sure to visit AERO Developers Official Site.
Screenshots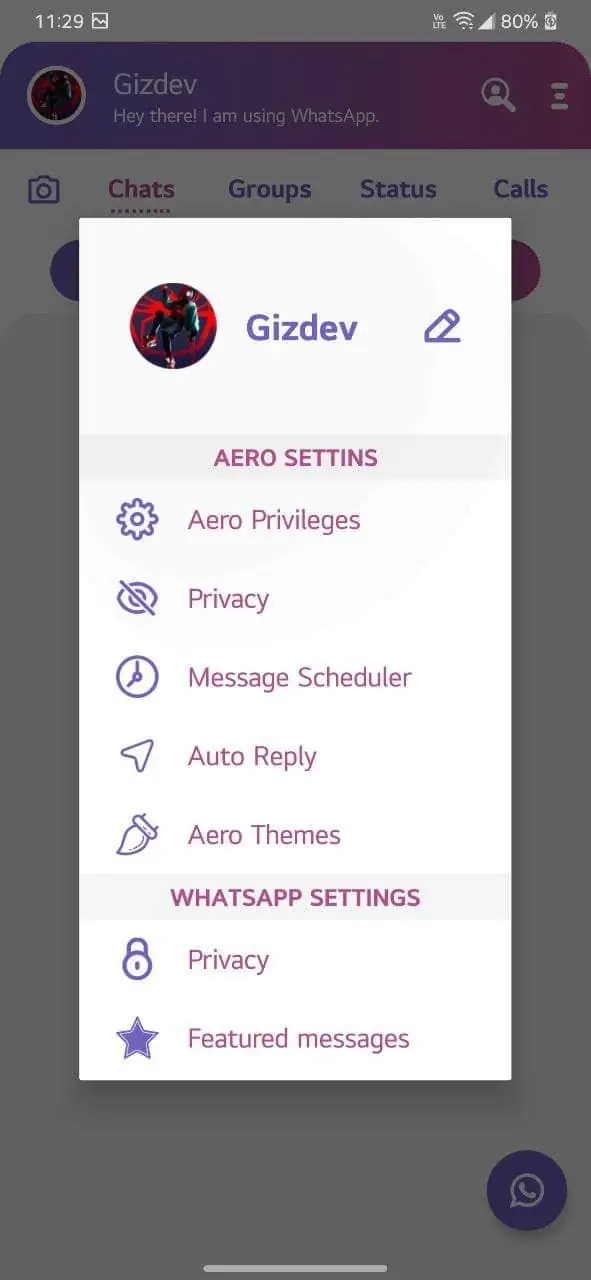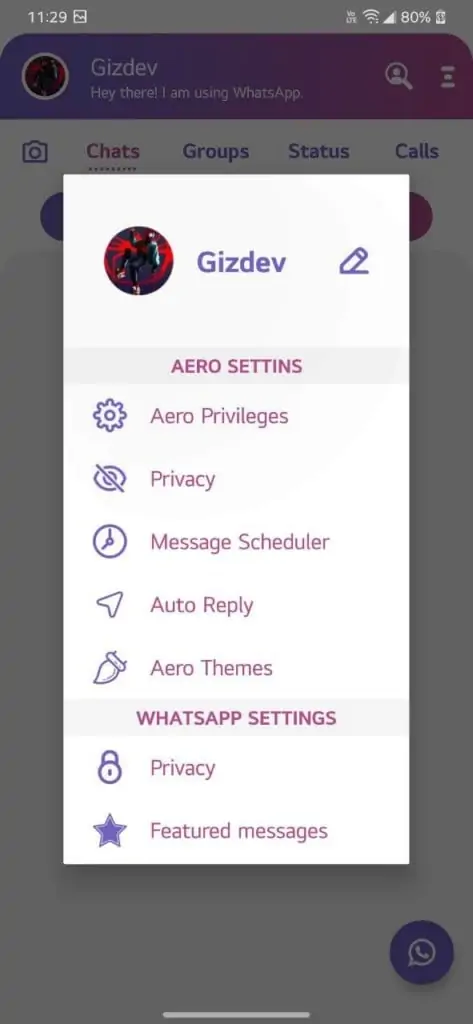 Update Aero WhatsApp 9.29 Fix
The Google play store protection policy is updated. It is detecting almost every third-party installed app as a harmful app. AERO WhatsApp is also reported as harmful but it's not. The AERO WhatsApp 9.29 update fixes this issue. So if you are getting the harmful app notification just update it to the latest version.
Aero WhatsApp 9.35 Update Changelogs
Added Custom double tap emoji for every chat (Chat screen 》 3-dots 》 Reaction emoji).
Added Show notification for blocked calls due to calls privacy.
option to disable double tap to reaction (Aero Privileges 》 Conversation Screen 》 Bubble And Ticks 》 Disable double tap reaction) Added.
Added Admin indicator in groups.
Added Custom background color for text status.
Custom text color for text status Added.
Added New way to show updates (BETA).
Fixed Top bar disappearing in stock UI.
Fixed Voice/Video icon color in calls screen.
Some Turkish translation spellings Fixed.
Fixed Some Arabic translation spellings.
Improved "Who can call me" settings. Deny options now auto disabled when set to "Everyone".
Improved Show "Chats" instead of "WhatsApp" in one ui header.
Misc Many other fixes and improvements
Download Aero WhatsApp [LATEST Version]:
(COM.WA) AERO WhatsApp 9.35 (This version will replace the official WhatsApp)
(COM.AERO) Aero WhatsApp (This will not replace the official WhatsApp, So you can use it alongside the original WhatsApp)
Download Aero WhatsApp [OLDER Version]:
(COM.WA) AERO WhatsApp 9.29 (This version will replace the official WhatsApp)
(COM.AERO) Aero WhatsApp (This will not replace the official WhatsApp, So you can use it alongside the original WhatsApp)
Installation:
Download the FMWhatsApp.APK file and copy it with your external SD card or internal storage.
If you are installing the APK for the first time then enable unknown sources from security settings.
Install the FMWhatsApp APK and open it.
Enjoy the customization.
Other MODs You should try
If you like the post Don't forget to share it. If you have any problems, then you can message us on our official Facebook page GIZDEV. Also, comment on your query in the comment box below. Follow our Instagram page to know about our announcement about giveaways. Follow here. Don't forget to join our telegram group for more wallpapers, Themes, Ringtones Update – https://getdev.me/telegramdev.