Download Google Pixel 2 Theme For EMUI 5.0 Devices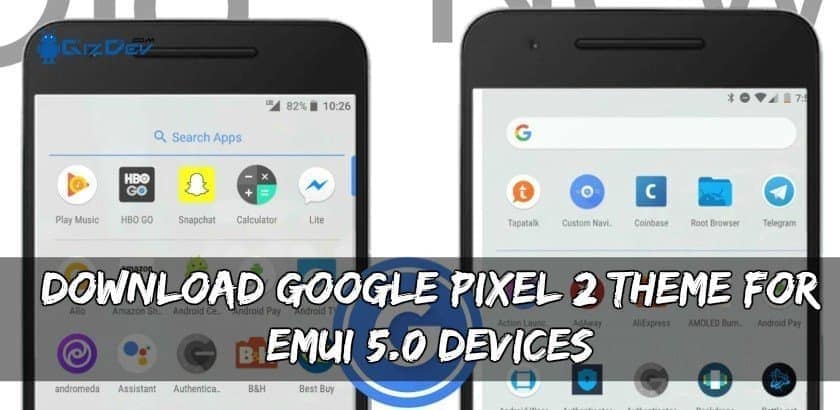 Here is the Google Pixel 2 Theme for
EMUI
5.0. As we all know EMUI has loads of themes in their store. So here is another addition to their theme storage. Google Pixel 2 themes are getting popular nowadays. So how can EMUI doesn't get the Pixel 2 theme for EMUI 5.0, EMUI 4.0. It is the best Pixel 2 theme available in
EMUI store
. So just head towards the download section and download this theme. You will surely get the Pixel 2 experience on your Huawei EMUI 5.0 Themes.
Gizdev Recommendations:
There is Pixel 2 theme which will work awesome. Download the theme t get stock Android experience. This theme supports all EMUI 5.0 devices. Many things changed in this themes. Like the status bar icons and some other icons are changed. If you want to see it visually then see the below screenshots. We will provide Pixel launcher also. Live wallpaper collection is also given in the downloads section. For best experience firstly install the Google Pixel launcher and then apply the theme.
Recommended For You:
Theme Information:
Name: Pixel 2 EMUI Theme
File Format: HWT
Size Of Theme: 8.5MB
Requirement: EMUI 5
Screenshots:
⇓⇓ Downloads Google Pixel 2 Theme For EMUI 5.0 ⇓⇓
Pixel_2EMUITheme —PLAYSTORE LINK
Guide To Install:
How To Apply Theme:-
First of all downloaded theme file.
Copy the theme ".Hwt " File To SDCard In "HWtheme" Folder.
Back to home screen then open theme app on your phone.
Now go to the Offline tab, select the theme what you want to apply, then click Apply.
⇒ For More Emui Themes, Browse Our ⇒ Themes Section
Like Huawei Dev For Huawei News Updates https://www.facebook.com/HuaweiDev