TPS Xiaomi Tool is the best Unlock/Disable/Remove Mi Account tool for Android devices. If you have Xiaomi device and you have lost your SIM card, which is linked to an MI account, and you want to disable or activate that account. In this case, we will use the latest TPS Xiaomi Tool to Unlock/Disable/Remove Mi Account. This tool supports any Xiaomi Android device.
TPS Xiaomi Tool For MiUI
This tool can help you to delete MI account, remove MI account, bypass or disable MI account, unlock MI device, and many more. Also, you can use this tool to unlock the bootloader, reset, backup, and restore essential files of your device. So let's go below to download TPS Xiaomi Tool and full installation and user guide for you.
"TPS Xiaomi Tool" was developed for Windows PC/Laptops and allows you to remove the Mi account from your device. Thanks to Developer "Miko Force" to build this awesome tool for MiUI users. If you try to unlock your device first time without any experience, then this tool helps Unlock/Disable/Remove Mi Account on your Xiaomi phone in a few clicks.
Features of TPS Xiaomi Tool
Unlock Account.
Disable Mi Account.
Persist Backup/Restore.
Check test points of many Xiaomi phones.
Reboot any Xiaomi device.
Unofficial Bootloader Unlock.
Pre-Requisite:
This tool will work only on Windows PC.
Install USB Driver from here. (If your device doesn't detect.)
Remember to disable the antivirus on your PC before installing this tool.
TPS Xiaomi Tool Download Link
TPS_Xiaomi_Tool.zip
How to Use TPS Xiaomi Tool
If you want to unlock the MI account on any Xiaomi device, please do the following. The tool supports many devices with Fastboot mode and some devices with EDL mode. So first, check which method is right for your device (EDL or Fastboot). Then boot your device in that mode.
First, download "TPS_Xiaomi_Tool.zip" file and extract it on your PC.

Now go to the extracted folder and open "TPS Xiaomi Tool.exe" file.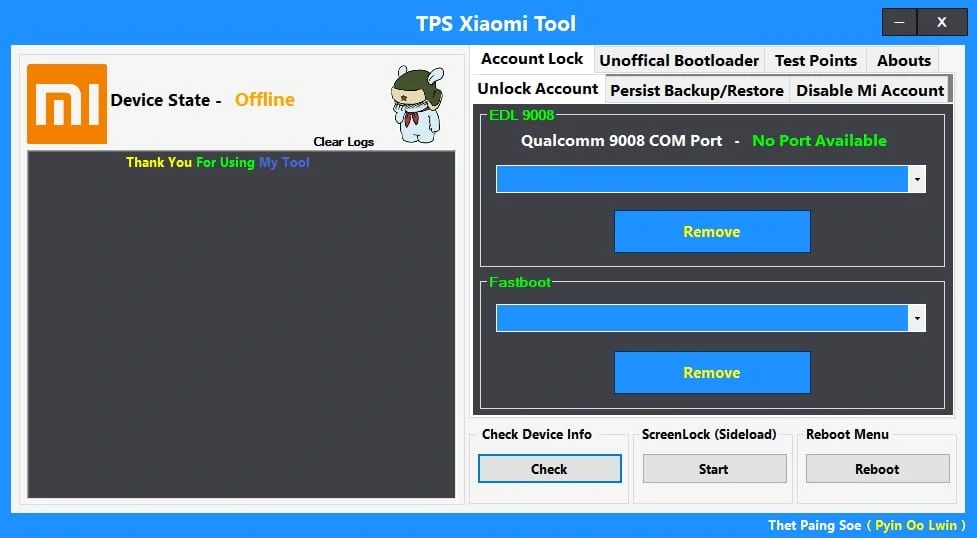 Fastboot mode
You need to boot your Xiaomi device into Fastboot Mode.

To enter Fastboot mode, make sure your phone is turned off and press and hold the Volume up + Power button.
EDL Mode
First, install ADB & Fastboot driver on PC and then turn on USB debugging on your phone.
Now connect your device with PC using USB Driver.
Then open a command window in PC and paste following commands and hit enter.
adb reboot edl
If any pop up appears on the phone screen then allow the ADB access.
In TPS tool the apparatus state will show ADB style or Fastboot mode in green color after connecting the phone with PC.
If you like the guide, please share it with other communities and forums ?. Don't forget to join our telegram group for more Android stuff, wallpapers, Themes, Ringtones Update – https://getdev.me/telegramdev.
More