Download Asus Flash Tool For Windows Latest Version
Asus started its smartphone business in a while ago. First, they came with the Zenfone number series and lots of other launches like one with the Intel Atom processor. Asus is really good nowadays with their pricing too their gaming devices are just great. They have both flagship and Mid-Range Android Phones. Asus devices used Qualcomm and MediaTek both chipset on their devices. Like Samsung, the Xiaomi Flashing tool Asus also has an official flash tool like Mi Flash Tool. The tool only distributed in the Asus service center, but it available in blogs and communities, you can find it on many blogs but all are sharing old versions. With Asus Flash Tool you can flash Asus Zenfone Android devices, Unbrick Asus devices, Update Asus Devices. In this post, we have shared the new to the old version of the Asus Flash Tool Asus Download Tool.
Asus Flash Tool helps you to Recover your device form the hard brick if you have flashed wrong Stock and Custom Rom. Asus Download Tool also updates your device's to new Android Version Android 7.0, Android 8.0. The tool supports All old and new Asus Android MediaTek devices. Here we have shared the latest Asus Flash Tool (Download Tool) Download link and a guide on how to use it.
What's the Asus Download Tool?
The Asus Download Tool is developed by Asus that permits the user to Flash firmware on their Asus devices. With the Download Tool, users can Upgrade or Downgrade Firmware. The Tool also helps you to Unbrick Asus Device from Hard brick and Softbrick. Asus Flash tool is a flasher developed by Asus to flash Stock Firmware/ROMs on Asus devices. The user can flash Firmware with the flash and fastboot method, and you have to download the full firmware file to flash with this tool.
Supported Devices:-
All Asus Zenfone Android Phones.
Prerequisites:-
First, charge your device for interrupting flashing.
Backup device apps, Messages, Contacts, Gallery you can use Dr.Fone – Recover (Android) for that.
The tool requires NET Framework runtime on your pc so first install the latest NET Framework to run the flash tool.
Download and install the ADB Drivers.
Download the tool and read the guide.
Asus Flash Tool Features:
Firmware Flashing – The tool Allows you to update your Moto phone ROM and firmware on old Moto Android phones. You need to download your phone's firmware file and load it into the tool.
Flash Boot, recovery, data, system – The tool can flash Boot, recovery, data, system file so you can customize your device easily also you can root the device and change the recovery.
Easy interface – The Tool has a simple interface that allows users to easily update the firmware on their Oppo phones.
Support Windows platforms – The Download Tools supports the Windows platform up to Windows 10, also Windows 8.1, Windows 8, Windows 7, Windows XP. And the tool will run on the 32- and 64-bit operating system.
Download Latest Asus Flash Tool
So here is the AsusDownload tool download link and Download Tool Enabler which support Asus Zenfone Android phones, We have uploaded the old version of the Asus Download tool. The tool requires Net Framework to run the program so install the runtime if you getting any error by running this app.
How to Use Asus Download Tool
Make sure you have installed ADB drivers.
Download the Asus Flash Tool file and unzip the zip file.
Now install the AsusFlashTool.exe from the ZIP File.
When the Windows promote for ADB driver and Network driver installation click install.
On Flash, tool installation just opens a flash tool.
Now download the stock ROM you want to install on your Asus smartphones from any source.
We have to flash the ROM so turn off your Asus device completely.
Now boot your smartphone to fast boot mode, you can do that by pressing power + VOL UP button just press and hold until the screen comes.
Get a USB cable and connect your smartphone to your PC.
After connecting the smartphone, if it asks for the driver installation allow that installation.
Now in the Asus Flash Tool software, click on Browse.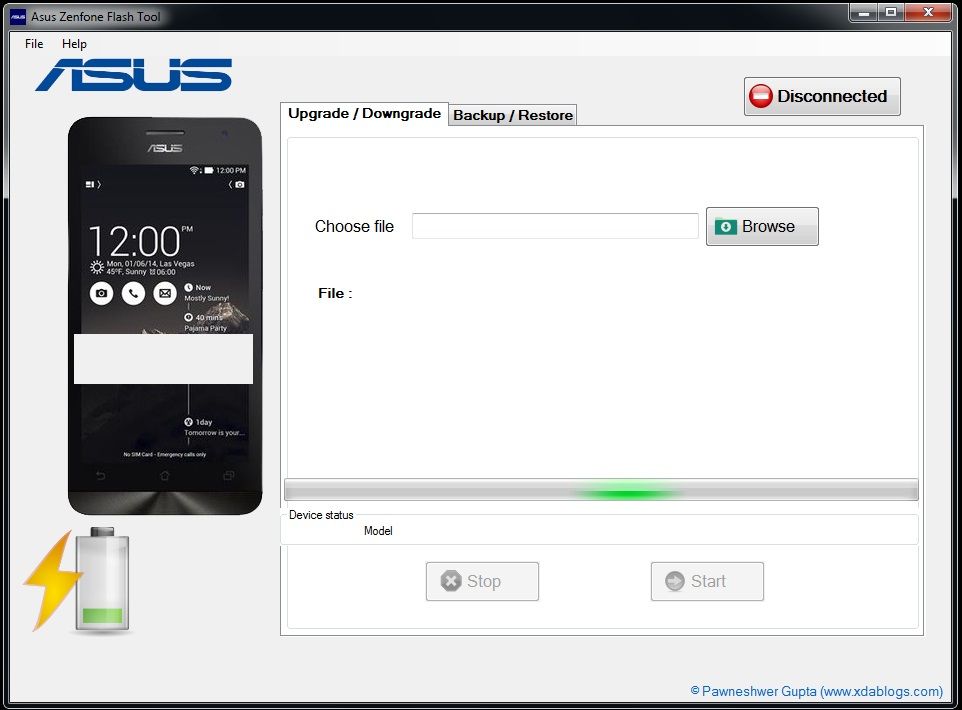 12. select the downloaded stock ROM file.
13. Now just click on Start to flash the stock ROM on your device.
14. The flashing status will be shown in a green indicator. Wait until it completes.
15. After completion, if your phone doesn't restart automatically, do the manual restart.
16. Done, you have now successfully installed the firmware on your Asus device.
For more tools and Android updates Don't forget to join our telegram group for more wallpapers, Themes, Ringtones Update – https://getdev.me/telegramdev.