Download Latest OnePlus Slate Fonts For Any Android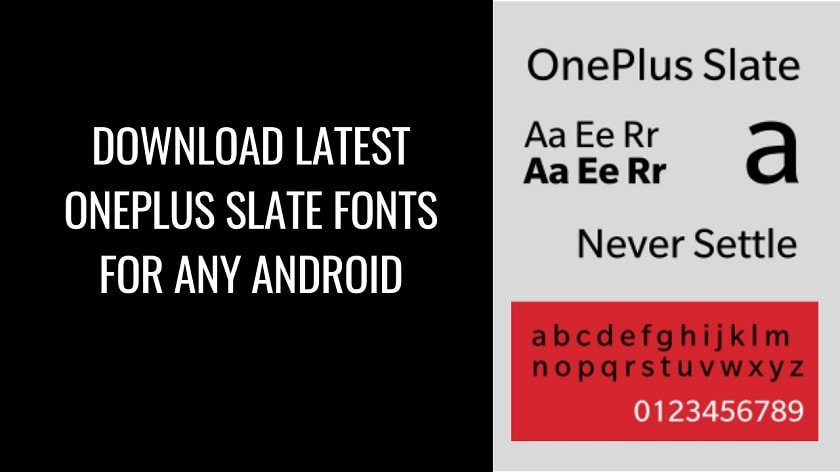 There's a lot of customisation already available for Android users. But if you liked OnePlus Slate Fonts then you can install them too. We will tell you the steps for installing, Google OnePlus Slate Fonts For Any Android Devices. These fonts can be installed on Rooted and Non-rooted users too. The fonts are in True Type Format (TTF). So you can install easily in any Android and it will support most of the systems too. So follow the post, Latest OnePlus Slate Fonts For Any Android.
OnePlus Slate Fonts:
OnePlus slate fonts are primarily developed for OnePlus smartphones. But as we all know on Android we can do everything 😛 So you can install these fonts on your smartphone too. The TTF format is supported by most of the systems so there should not be any problem regarding the support for these fonts. OnePlus slate fonts are slightly different from default font if you wan to try something new you can try them.
There are different width sizes available for the font. You can select any of them to install. I'll attach a zip file so you can download them all and extract them then you can use them on your smartphone. ezzy pezzy right!!
List Of Fonts Included:
SlateForOnePlus-Regular.ttf
SlateForOnePlus-Medium.ttf
SlateForOnePlus-Black.ttf
SlateForOnePlus-Bold.ttf
SlateForOnePlus-Book.ttf
SlateForOnePlus-Thin.ttf
SlateForOnePlus-Light.ttf
Downloads Section:
If you have any problems do comment below. Also, for more updates on stuff like flashing, wallpapers, themes etc like our Facebook page.